Today's blog is a simple one. I have one thing which I need to know– why do men not like to donate to charities? I never really thought about it before getting involved in this current volunteer phase of my life. And the evidence I have points to men just not giving the same attention to this part of life as women.
My wife has written a blog called "How can we help when there is so little hope?". It has been amazing the response we have had. So far we have raised just over $1000. This will go a long way to helping this small charity we have been working with. I was working in the school today, digging holes and general shovelling. With no electricity and running water this place is an absolute hot fan oven.
The money we have raised will change this.
How lovely.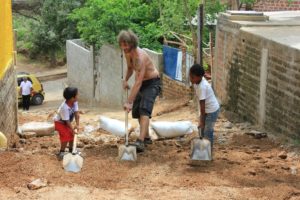 What I have noticed so far is that 22 of the 25 donators have been women. Well done ladies!
But why?
When we went to Melbourne a few months ago to the Worldvision Bloggers meet up, I was the only man in the room apart from one guest speaker. When their marketing manager asked me was I comfortable in such an oestrogen charged environment (my words, not hers), I told her of course.
Far be it for me to not enjoy the company of muchos muchachas.
We got to talking about this dearth of males and she seemed quite unconcerned about it. Most of the people who donate are women she told me. That is the target demographic. This is who gets involved and this is the group of people who care.
So that has got me thinking.
Why do us blokes not give as much of a shit? I am more guilty than most until this point in my life.
Is it a hunter gather subconscious genetic thing?
Is it a general macho thing?
Is it a "stop talking to me about the poor in Africa I'm watching the end of this football" thing?
Is it because we just don't have the same level of care as women?
Is it a "we don't want to be seen as no good do gooders" kinda thing?
Is it because we are heartless creatures with demonic ice blood?
Is it something to do with our need to protect ourselves from being nice?
Is it a "we genuinely are not interested in helping" kinda thing?
Is it because we are sick to death of people asking for our hard earned money?
Is it a matter of not trusting them feicers with MY money thing?
I have listed these as I have thought about them and they all apply to me (apart from the demonic ice blood)
Football, beer, war, fighting, meat eating, copulating and sleeping.
All great manly things.
Things we regard as part of the male psyche – the ego and the animus. The pride filled, chin in the air heart pumping bludgeon of a true red blooded warrior. This is what we offer the planet.
The women give us the other stuff. The caring for the sick and needy, the protection of the weak and vulnerable.
How hard is it to make these part of who men are…. without seeming like weak, pithy wallflowers.
Can we make charities manly?
Can we make caring a manly thing?
Have I been spending too much time in the sun?