Was walking to catch a local train here in San Fran and bumped into this guy. He was holding a placard up over a footbridge on a highway during evening rush hour traffic. He wanted to draw attention to the case of a native American who was charged with murdering 2 FBI agents in the 70's.
While the traffic zoomed along underneath, this guy was holding banners over the footbridge to draw attention to the cause.
The man imprisoned is called Leonard Peltier.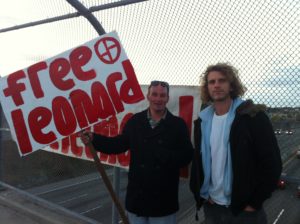 The case itself is quite a contraversial one and I wont even begin to get into it – it seems that this guy has been wrongfully imprisoned for allegedly killing two FBI agents.
You can click through here to Wikipedia to get the low down.
There are all sorts of online petitions you can sign to help this guy get the last few years of his life out from behind bars.
What I found incredible was this guys commitment to a cause which didn't affect him. When I asked him why he was doing this, his simple answer was becasue he wanted to help this other guy out.
Shane Grey I take my hat off to you.