Pat Gilroy stepped down as the Dublin GAA manager last week. I take my sombrero off to him as he brought the glory days back to the city. He went about his business calmly and steadily and he has to be commended for an outstanding few years work.
The last time I spoke to Pat was when he told me I was no longer involved in the senior inter-county set up with Dublin. It was October 2008.
I was working as a sales rep for Guinness out in Meath and Cavan and was just after walking out of a pub in a sleepy town called Oldcastle. The dry winter evenings were setting in. It was close to 4pm and already the sky was darkening. You could smell the turf fires being lit in cozy little homes. It smelt like Christmas was just around the corner.
My phone rang and I saw Pats name pop up. I knew the news was going to be bad. I had been to a fitness test the week previous and I had struggled. I had been drinking and smoking again and was out of shape.
To be honest I didn't think I could take another few years on the bench, but if Pat was to tell me I would be given a chance to show how good I was, then I was willing to roll up the sleeves once more.
I had spent three years as a sub for Dublin. Three years training 6 days a week to be a sub. Three years giving every ounce of sweat and blood I had to try and break into the team. Being number two to Stephen Cluxton is no insult, but I always believed I was better. I always thought if I was given a chance then I would pull off saves which would go down in the annals of brilliance and supreme performance. I stayed involved because I believed.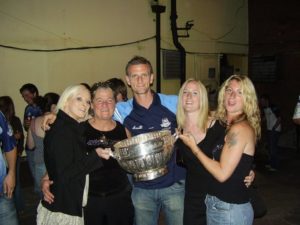 In those three years I never drank except for a blow out for a month or two from October to November, but even then you would still be training and watching what you were eating to a degree.
That all changed when Pat Gilroys call came through.
–          Hi John, I just wanted to call to tell you that you are no longer part of the squad. The reasons are that your kick out is inconsistent and we believe that your decision making is suspect at times. As a shot stopper you are probably the best in the county, but I am afraid overall that you are not consistent enough.
–          That's cool Pat, I understand. I had a feeling this call would be coming..best of luck with everything and I hope you bring the All-Ireland home.
And that was it. More or less. There was some fluff either side of this but all in all, that was the end of it.
I had to commend him on his honesty and lack of bush beating.
I think it was this that got Dublin back into the championship winning mode. (Honesty…not dropping a sub keeper!)
He was honest and direct and kept things inherently simple and clear. This allowed the team to work together and no one man was above anyone else. This work ethic, while attempted while I was involved, was taken to another level. And Sam came home. (Sam is the name for the Championship trophy)
This phone call began a binge that would only really end six months later in Sydney Australia. The shackles were off. My reasons to drink, indulge, party and consume were so blatant and obvious that they screamed at me every day I woke up
–          You are no longer with the Dubs man…fuck work, get stoned and play golf

–          You are no longer with the Dubs man…fuck club training, get into town and go on the session

–          You are no longer with the Dubs man…fuck everything, get a big bag of pills and get mashed up this weekend

–          You are no longer with the Dubs man, fuck the lot of it, let's go on the piss this morning, get some coke for the avo and go on a real drinking session.
It was my excuse to consume, drink and indulge. My work performance suffered. My interest in life seemed to suffer. I wasn't interested in much save who was going on the session and when they were going. Drink, drugs and the rest flowed.
It wasn't long before I was depressed with life in Ireland. I got in touch with my old buddy Fran Daly living in Australia and he said he might be able to hook me up with some work. I thought to myself that there was no other option. I couldn't face staying around. Three months after being dropped from the squad I was on a plane to sunny Sydney.
It was here where I could drink and party on with the new reality of life far, far away. So I carried on…drinking heavily, getting in the pills, smoking my brains out. I could carry on the lie here. I could continue the madness and people didn't know where I was coming from or really why I was there. I was there because I couldn't face living in Dublin, knowing I wasn't on the Dubs. I was there so I could blitz myself, numb myself and drink myself to oblivion and no one would pull me up.
I often wonder what it  must be like for pro's who finish up, or inter county superstars who have to hang up the boots or who are told to.
It must crush.
I mean, look at Gazza (former England soccer superstar Paul Gascoigne)
It is hard to adapt to life away from the top performance routine. It is a hard nugget to swallow that you just aren't good enough anymore. And if you have an addictive, expressive personality, then you better watch out. You better understand that the rails might be about to be come off.
The rails first came off when I was 17. I had been scouted by Oldham Ahtletic, then in the Premier League. The scout was talking about possible moves to Everton FC in the future. He was extremely excited and so were the club. I had only been playin in goals for 4 years but was on the brink of a professional contract.
What the scout didn't realise was that I was two months too old to play U/18 the following year. When the birth certificate went through he called me up to break the news to me that I was surplus to requirements.
I still remember how my world caved in after that phone call. My heart sickened and I knew everything would be different from the way I had hoped.
The drinking, hash and old school "e's" were consumed in heavy doses to deal with the pain. But I still had GAA to bring me back in….the Dublin minors, then under 21's kept me from committing too heavily to this life of excess.
But something died inside.
But unlike then when I had parents and other high performance sports to ground me, after being dropped from the Dublin panel, I only had myself to fix myself. No football, no commitments, no hope for the future.
It took me another six tortuous months of remodelling my brain, my attitude and myself before I was able to deal with myself as a human again. I had become a twisted, cynical, paranoid and angry wreck of a man. My normal, good and happy self was buried behind a drunken, drugged up animal. But I got my head together over time. And here I am…..
-The one and only Sober Paddy.
So thank you Pat. Thanks for winning the All-Ireland again. And thank you for sending me on one of the heaviest binges of my life which has resulted in me being the strongest, most creative and happiest I have been in my life.
The drinks are on me when I see you next.