I have been blown away by the response to Dub Sub Confidential. To top off an incredible reaction to the book, I was awarded the inaugural Setanta Sports Book of The Year award. I want to say thank you for all text messages, phone calls, emails, likes, tweets, hugs, handshakes and kisses from all over the world. I am truly humbled.
I have always wanted to write something good. I always dreamed of people someday, somewhere reading my prose and thinking "yeah, this kid is good, this kid has it!" I didn't think the story would be about me. I didn't think I would be the protagonist. But there you go. Life is full of little twists and turns.
When I first began this blog, it was to keep myself to account. If you look at some of the videos on my YouTube channel, they are raw. I was raw and earnest. My early writings were desperate and honest. It is something I will try to maintain. I want this always to be honest and real.
The book covered so much of my own life, my trials and tribulations, that in some ways it is hard to call it a sports book. It is something I put my heart and soul into. My paedophile priest abuser is in there. My long dead Dad is in there. My former life with the Dubs is in there. My ex lunatic drink and drug fiend runs rampant.
I will write a blog about the abuse soon. I have to. Not for me, but for everyone else who is being or has been abused.
The reason I mentioned first beginning this blog two paragraphs up, is because there have been many times over the last almost seven years that I have been tired and disillusioned. But then an email would come in . An email would come in from some poor bastard who was struggling with his own daemons and I would think :" Fuck, I have to keep this going. I have to keep telling this story"
I always thought that if I could help just one person out it would be all worthwhile. I have had thousands of connections with people about drinking and drugs over the years. I have been humbled that some people take strength from me putting it all out there.
And now, with the child abuse…I feel the exact same way. I didn't think about that when I was writing the book. But as the day of it being published loomed I got pre match nerves: what will my friends think? what will my family think? what will my peers think?
And then I though, fuck it. Fuck it all. If the reviews are shite then OK. If the book doesn't sell, then OK. But if one person out there who has been or is being abused reads it and gets some kind of something from my story, then it has been worth it. That's what I thought then and what I think now.
I'm getting emotional now.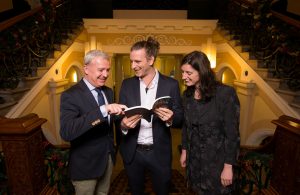 I do want to thank Setanta for putting this award on. Sport and writing are a massive part of Irish culture. They are how we define ourselves. They are where we excel. They are part of the fabric of our consciousness as a race and we need to celebrate them whenever possible.
I worked out that Ireland accounts for roughly .05% of the worlds population. POINT ZERO FIVE!!! We punch so far above our weight it's not funny. The Rory McIlroy's and the Conor Mc Gregors are not the exceptions…we are all the exceptions. Our whole little Island is an exception. All our sporting teams and all our writers excel in a vast and impossibly competitive world.
So for Setanta to come in and bring profile to the combination of these two is a testament to them.
And for me to take home first prize and beat the calibre of the writers I was up against…well, it is nothing short of a dream come true.
So thank you everyone. And keep on fighting the good fight.